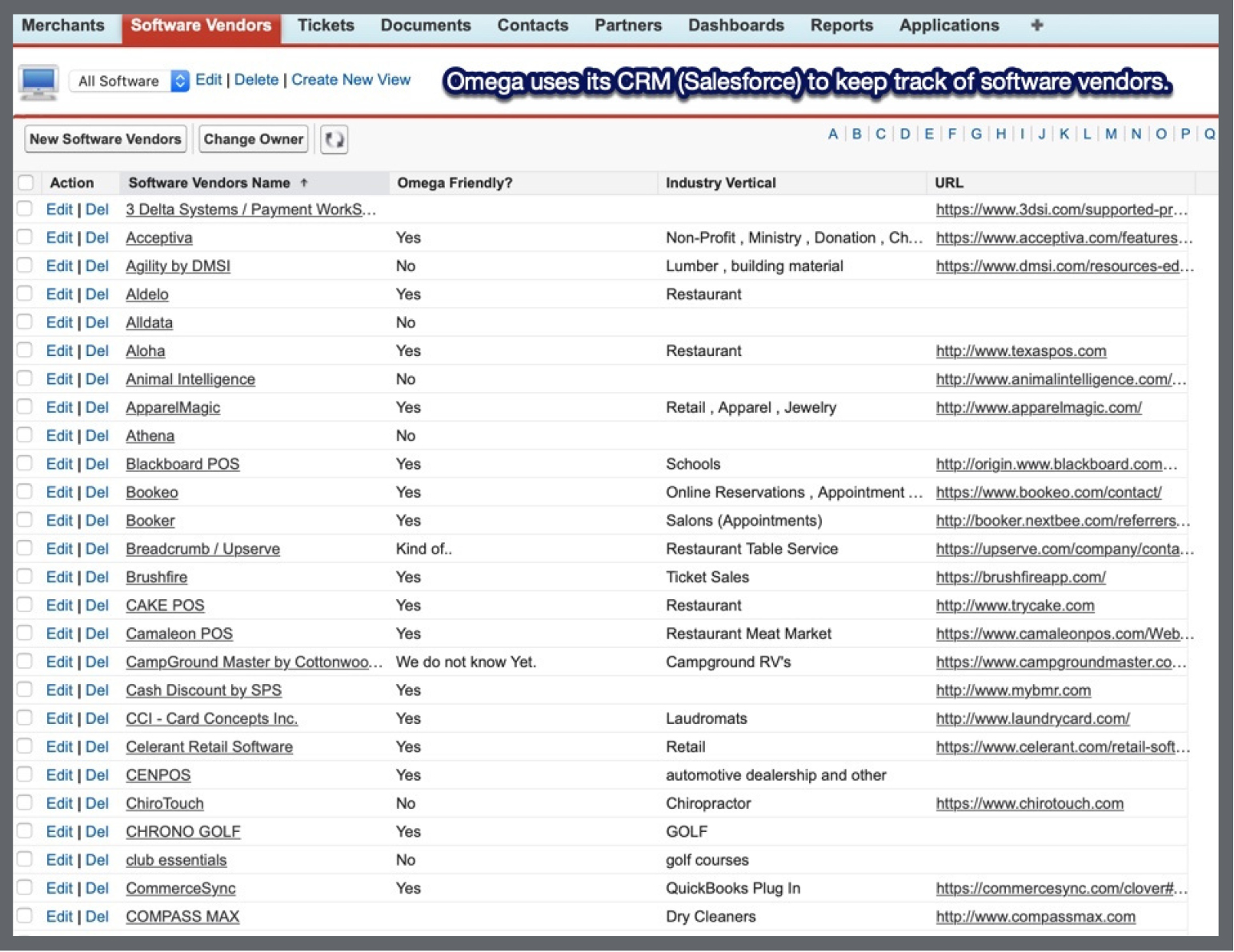 Integration to various softwares and POS systems is becoming a trend in the payments industry.  More and more processors are working closer with "ISVs" (Integrated Software Vendors) as these "software developers" can bring lots of merchants to the processor.  In order to stay relevant in this fast paced and ever changing market, we have increased our focus and have launched "Omega Integrations".
Software (SaaS) companies are either processor agnostic or they choose to partner with a payment processor for a 1 on 1 integration.
Omega has the payment API's and relationships with various payments gateways to plug into hundreds of various software vendors.
Nearly every merchant has migrated away from pen & paper and has some sort of software that runs their business. The functions and features depend on the industry but it keeps track of customers and other pertinent data. The big question is whether the merchant has their credit card processing INTEGRATED or NON-INTEGRATED.
Omega Integrations has multiple integration options depending on your software's needs and programming language.
The most popular by far is our cloud based integration.  Our cloud based integration takes you out of scope for PCI PA-DSS and EMV Certification.  It only requires one simple integration to our payment gateway and gives you and your software end-user access to multiple device types and brands.
Our single platform unifies every transaction with a single token, whether it happens in store, mobile, online or in a self-service setting.
The cloud based integration is the best way to FUTURE-PROOF your software for everchanging security features, certifications and payment card industry (PCI) compliance.
Omega Integrations keeps up to date with all of the payment industries disruptive technologies: EMV Chip Cards, NFC, PayFacs and Digital (crypto) Currencies. Our payment gateway integration will continually ensure your software is modernized with the latest security protocols and up to date with PCI Compliance.
Let's set up a call with our Lead Developer so we can get you a customized SDK for a quick and easy integration.

LEVEL I PCI COMPLIANT
Get a Pass on PCI Compliance
Secure Card Vault
Recurring Billing
Quick Invoicing

TOKENIZATION & ENCRYPTION
P2PE or TLS 1..2 encryption support Needed for some Card Present hardware

DEVELOPER FIRST FUNCTIONALITY
REST API; integrated from any programming
language.
Single-stack technology
All features in user interface are available in API.
Windows, iOS and Android
Card Present

ADVANCED FRAUD MANAGEMENT TOOLS
Built in DDoS Protection

SUITE OF PAYMENT PRODUCTS
EMV, NFC (Apple Pay, Android Pay),
magstripe, ACH and more.