We are Your Partner in Payments
Clover Dashboard and Features
Manage your entire business in one dashboard – accessible on the Web or through your mobile device
Clover® point of sale (POS) systems make running your business a breeze – whether you manage a restaurant, brick-and-mortar retail shop, eCommerce store, or service business. Use our all in-one, tailored POS system to manage every aspect of your growing venture– accepting payments to organizing inventory to managing your team. All at your fingertips – anytime and anywhere.
Not sure what you need and when? Start with the Clover dashboard. Enjoy the benefits of our same robust POS system without committing to hardware. Take payments, track sales and inventory, sell in person, on the phone, and online–run your business from anywhere.
Help grow your business online, manage it all in one place. Use Clover's eCommerce solutions to help you grow your business online. Integrate Clover with your existing website, or let us help you build a new one. With Clover, you can manage it all in one place through the Clover® Dashboard.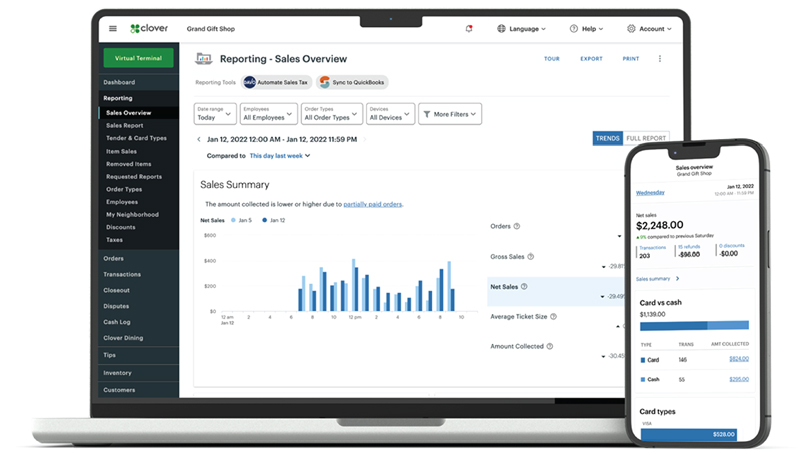 Every Clover system comes with peace of mind built in
Securely store client's cards, send electronic payment links, manage recurring payments and run cards using an online virtual terminal
Manage everything you sell with easy, intuitive reports
Schedule shifts, set permissions, and recognize your best performers
Keep them coming back with Promos, Rewards and Feedback tools
Track and manage items with one system–in store, online, or both
Access to your receipts is a click away and leverage future receipts to grow now
Set up your business today and take payments with the Clover Dashboard